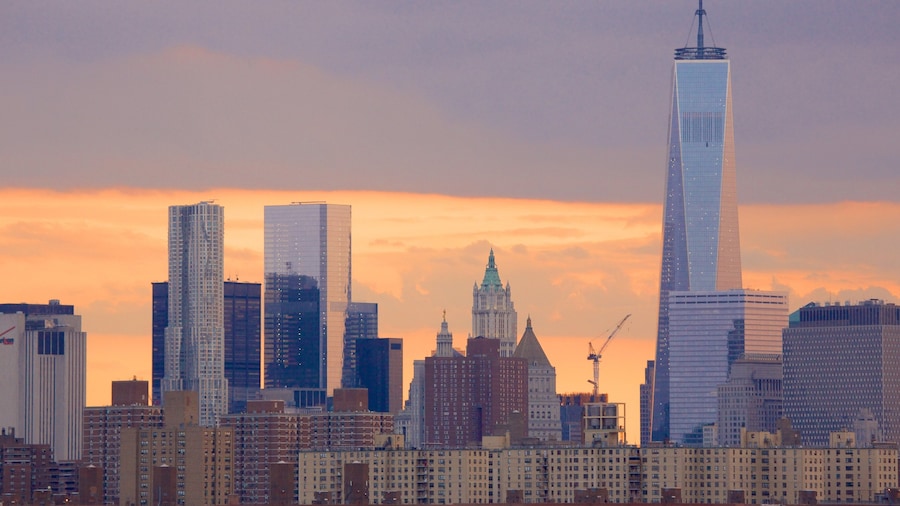 Search over 1 million properties and 550 airlines worldwide
Free cancellation on most hotels. Because flexibility matters.
Lowest nightly price found within the past 24 hours based on a 1 night stay for 2 adults. Prices and availability subject to change. Additional terms may apply.
Where to stay in New York
Manhattan

9 out of top 10 points of interest in this area

Power and wealth and breathtaking scenery are concentrated on this very small island. Immerse yourself for a few days or a lifetime.

Midtown

6 out of top 10 points of interest in this area

One of the most recognizable areas in the world also has enough tourist attractions to fill several visits.

This fashionable neighborhood is great for shopping, eating and drinking.

With luxury park-side apartments, high-end boutiques and prestigious cultural icons along Museum Mile, this is New York at its most refined.

Brooklyn's signature medley of old and new provides the backdrop to this revitalized district, where you'll find fresh arts venues behind historic streetscapes.
New York Travel Guide
Hotels in New York
New York emits an energy that few cities can match. It's hard to say whether this electricity comes from the fast pace, the tall buildings, or the big ambitions of the eight million (and counting) inhabitants who crowd this dense metropolis. Whatever it is, the city's buzz is undeniable.
New Yorkers call their home simply the city, and this implication that New York is really the only city might strike people from elsewhere as arrogant. Spend a few days in the thrilling rush, however, and you might understand the sentiment. Larger than life, open 24 hours - this is truly the city that never sleeps.
Sensory Stimulation
It's natural to feel a little overwhelmed on a first visit to New York. The city can overload the senses: the smell of sizzling gyros from Midtown street vendors' carts, the sound of a subway musician's saxophone during the crush of a rush-hour commute, and the neon lights of Times Square flashing at all times of day and night.
This stimulation from all sides is what makes New York so dynamic. You'll soon realize it's the sheer sense of possibility that has everyone jumping. You can do anything here, whether it's catching a long-running show like Phantom of the Opera on Broadway or crashing a loft party in the newest alternative art space. Shop 'til you drop in SoHo like the Sex and the City cast or hobnob with the literati at West Village wine bars.
You can even enjoy some nature, and not only in Central Park. The East Village has many community gardens and Brooklyn's Prospect Park is a real delight. Head north to the Bronx Botanical Gardens or to Washington Heights' Fort Tryon Park, which towers over the Hudson River with views of the Palisades - you won't believe you're still in the city.
The Whole World is Here
To get your bearings in such a large city, it's a good idea to start with an overview. A hop-on, hop-off bus tour will help you learn the lay of the land. Or, for a different vantage point, try a helicopter ride over the five boroughs or sail by Manhattan's monuments on an elegant dinner cruise. Sure, it's a bit extravagant and certainly bold, but hey, that's New York.
Really, though, New York is a series of neighbourhoods-it's not all that intimidating. From Little Italy to Chinatown, the Lower East Side to Chelsea, New York houses several communities, each with their own distinct flavour. Despite this, there are no artificial boundaries-the daily mix of millions of different people is what makes the city's story so great. Perhaps that's why New Yorkers think they live in the centre of the world-it seems the whole world is here.
Frequently asked questions
Where is the best place to stay in New York?
If I need to cancel my hotel reservation in New York, will I receive a refund?

Yes, the majority of room reservations are fully refundable if you cancel before the hotel's cancellation deadline, which is usually within 24-48 hours of your scheduled arrival. If you have a reservation that's non-refundable, you may still be able to cancel and receive a refund within a 24-hour period of your booking. Add your dates and click on "Search", then you can use the "free cancellation" filter to review the best deals in New York.
What's the best place to stay on a budget in New York?

Based on reviews,

Hotel St. James

is a popular 2.5-star hotel for our travellers in search of a less expensive place to stay, and it offers free WiFi. Other choices for your budget-friendly stay include

Hotel Pennsylvania

and

The Jane Hotel

.
What's the best place to stay when travelling with children to New York?
What's the best hotel for a couple visiting New York?
What's the best LGBTQ-friendly place to stay in New York?
What are some hotels with pools in New York?
What is the best spa hotel in New York?
How is it to stay in New York?

Travellers to New York give high marks for the popular theatre scene, entertainment choices and fascinating museums. Urban and scenic, this city attracts tourists with its art and architecture. Top sights in the city include Times Square, Broadway and Rockefeller Center. In New York, there are 2969 hotels and other accommodation options to choose from.
What should I do while I'm visiting New York?

Known for its theatres and museums, cultural venues include Broadway, Radio City Music Hall and Gershwin Theater. Attractions such as Madame Tussauds Wax Museum, Central Park Zoo and American Museum of Natural History are fun for children of all ages. Landmarks like Rockefeller Center, Broadway Theatre and Grand Central Terminal might be worth a visit.
What's the best way to get around New York?

You can walk to nearby metro stations including Times Sq. - 42 St. Station, 49th St. Station and 42 St. - Bryant Pk. Station. If you'd like to explore around the area, you may want to rent a car for your trip.
What's the weather like in New York?

The hottest months are usually July and August, with an average temperature of 23°C, while the coldest months are January and February, with an average of 3°C. Average annual precipitation for New York is 1271 inches.